As the Kansas City Royals are taking their hacks in the cage mere feet away from him, Bear is shoveling piles upon piles of Target Field's dirt into the corner of the backstop.  So much dirt, in fact, that if you watch highlights from that September 20th game, you will clearly see a mound to the left of the rotating ad space behind the plate.  That mound is the beginning of what could very well be a promising future for the young left-handed scooper.
Let me backtrack a bit…
The Minnesota Twins, and baseball in general, were always the biggest love of my life.  My love for baseball was so big, in fact, that I was borderline blasphemous in calling the baseball diamond "my church" as I was growing up.  For much of my time spent alive, I have dreampt of passing that love down to any child that God might bless me with.  That dream became a reality when my 2-year-old stepson, Bear, and I were given an amazing opportunity by the star of the 2019 Minnesota Twins.
On the Monday before the September 20th game against Kansas City, I plan on reaching out to one of Bear's favorite players.  Bear always reacts the most when Nelson Cruz and Max Kepler are up to bat while he watches games with me, so it is down to those two.  With Kepler nursing an injured back, I figure that Cruz is my best bet.  I craft an email asking if Nelson would be willing to give him a hi-five or a ball during batting practice, as it is going to be Bear's first game ever.  I do not expect a response as I hear the 'whoosh' from my email being sent off.
Later that day, one of Nelson Cruz's representatives sends me an email back asking what our names are for batting practice.  After two or three more emails back and forth, I start to get confused as to what is actually going on.  He tells me that there will be two field passes for batting practice that will be left for Bear and I before the game.  I am stunned and begin thinking of ways that I could possibly hype up a two-year-old for such an opportunity.
Skip ahead to the four-hour drive to Target Field from Green Bay that Friday, and I honestly am not sure who was more excited: Bear or myself.  As Bear is playing with his Leap-Frog laptop in his car seat, I am pushing the pedal to the metal to get there on time for batting practice.  There are some bumps on the road along the way — in Chippewa Falls we are informed the Twins are not going to take BP — but we make it in time to pick up our batting practice passes so we can watch the visiting Royals in the cages.
As Bear and I make our way down the stairs to the field, a security guard gives him a hi-five and opens the gate for us.  I cannot stop looking at the Twins playing catch in right field as I am walking with Bear down the warning track.  Jose Berrios, Eddie Rosario, Jake Cave, Jorge Polanco…these are the guys that Bear and I have watched highlights of all year long and now we are only thirty feet from them.  Bear, however, is more enamored with the red-brown warning track that we are walking on and he giggles as he kicks some dirt into the air with each step.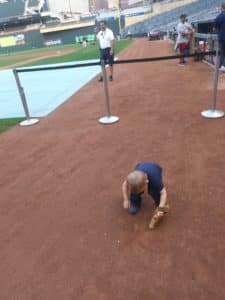 As I walk along the dirt, I find myself soaking in this amazing opportunity that was given to my stepson and I.  While soaking it all in, I take a moment to thank God.  Not too long before this moment, I was still reeling from some traumatic experiences that almost ended my life.  It is a miracle that I am alive and that I am even here walking on Target Field.  Here I am, fully alive for what feels like the first time in ages, reliving the good parts of my childhood with my new stepson.
When we reach the area behind the plate that will be our home for the next two hours, Bear sits down and begins playing with the dirt that he was so enthralled with.  While he was turning Target Field into his own personal sandpit, I notice someone walk up behind him and grab his glove.  As I look up, I am shocked to see Twins Hall-of-Fame outfielder Tony Oliva standing in front of me.  Before I can even say anything, he is in the middle of signing Bear's glove and then he hands it to me.  He then leans down and, in his thick Cuban accent, exclaims, "Man you are getting dirty!"  Bear looks up and smiles before going right back into the pile of dirt that he is currently playing with.  Before Tony walks away, I ask him for a picture, to which he obliges and lifts my stepson up for — a pretty impressive feat considering Oliva is now 81-years-old.
Later, when Bear has made his way over to the corner where I started this article, Twins' TV play-by-play announcer Dick Bremer walks up with his signature voice booming, "You know what you should be playing with on a BALLfield?"  Bear looks up at him inquisitively before Bremer reaches behind his back to reveal a baseball.  Dick throws the ball to him and Bear shows off his cannon of an arm in response.  His form is enough to make the middle-aged couple next to me gasp in awe of how this two-year-old was even able to learn how to throw in such a way.  I just shrug and tell them that he has seen quite a few Twins' games on TV and has seen me pitch a couple of times.
After Bear is done playing catch with Dick Bremer, we both sit on the ground to watch Ryan O'Hearn, Whit Merrifield, and the rest of the Royals finish up their batting practice.  I pick up Bear after watching one of the Royals take his last swing and he says to me, "I aunt foo," which can only mean one thing; he wants food.
While we are making our way off the field, the same security guard from before gives Bear knuckles and notices the 'TC Bear' shirt that he has on, to which he smiles and commends him for having great taste in mascots.  My stomach is rumbling and I feel Bear's, too, as I am carrying him to our seats down the right field line.  We go grab a foot-long hotdog, a Sprite, and some french fries to split, before I spill all but four of the french fries on the way back to our seats — you try carrying a 25-pound toddler in one hand and said food platter in the other!
In the 3rd inning or so, Bear and I walk back up to the concession stand to get him a treat like my dad had done so many times for me.  He picks out some cotton candy and we are on our way.  As we get back to our seats, I ready the wet wipes, break open the cotton candy, and watch as my son devours a handful of the blue, fluffy goodness.
As the innings go by, I just keep looking at Bear in awe of how my life has gotten me here to this moment.  After all the pain and all the sorrow, God is using what I formerly referred to as my church — the baseball diamond — to show me that everything is okay and that a new chapter of my life has begun.  What an amazingly poetic and beautiful God I serve…
I have been told my whole life how a personal relationship with Jesus Christ is the most joy-filled thing you can possibly find in your journey here on Earth.  After living the past year-and-a-half as a devoted Christ-follower, that is absolutely true and I will tell you nothing different.  In this moment, though, I realize that there is something that comes in at an unquestioned second place for me:
Looking into the eyes of my Twins' fan stepson and seeing the culmination of my entire life up until this moment…  The good and the bad, the trauma and the joy, but most importantly, my relationship with Jesus Christ.
That is the beauty of fatherhood.
That is the beauty of baseball.
That is the beauty of God.