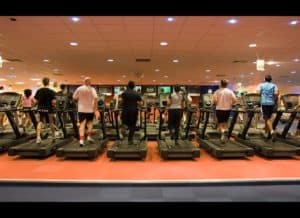 Every January gyms across America get   packed with an enthusiastic bunch of   new comers. Lines for cardio equipment   run two or three easy. The radios usually   pumping some point the "eye of the   tiger" as people tried to achieve their   new year's resolutions. But this usually   lasts as long as a Minnesota Vikings   Super Bowl dreams, in other words not   real long.
Just about Valentine's Day the gym begins to thin out as New Year's resolutions are slowly forgotten. It's an annual migration, very reminiscent of the church. As the holidays roll around people are drawn the gym. Very enthusiastically they sign a contract with the hope of achieving everything they want. Some even go as far as to buy new closing, god looked good for that new gym.
They begin like a house on fire, complete with a personal training session, maybe even two lessons. In these two 45 minute sessions they are supposed to grasp everything about the gym, how the cardio works, the machines that are right for them, how to achieve their goals. In theory this may work, but these new gym attenders are strangers in a strange land. The guidance they need is a lot more than just two sessions; they grow frustrated not seeing the results they wanted. Slowly but surely the enthusiasm wanes and the visits become less frequent. Eventually they go back to old habits or maybe just walking on the block.
Many people stop going the gym because they don't know how to use the machines, they don't know what a good workout consists of, and so they walk away and embrace old habits. The same can be said of the visitors to churches. They come and they accept Christ as Lord and are like the house on fire. The congregation is excited and welcomes them with open arms. Again time passes these new converts are strangers and a strange land. Many churches may offer "two sessions" but real discipleship is a process.
Churches just like gyms, do not supply the much needed training for newbies. Faith does not just believe it is a lifestyle, as is fitness. Churches need a strong discipleship program to prevent members from feeling lost and slipping through the cracks. It is great that these people make a decision for Christ but there's more to it. Billy Sunday, a pro baseball player in the early 1900s, and later the renowned preacher once said," stopping at third is just the same as striking out, it doesn't change the score".
The Christian decision takes only a moment but a Christian life is not accomplished so quickly. The Christian life takes a continual commitment, from the individual and their church. If it is not the continual process, it is like 'stopping at 3rd'. It is just like striking out because there has been no 'change in the eternal scorecard'. How many new believers have been stranded on base never making it home?