It's a beautiful 85 degree Thursday summer afternoon.  With the sun beating down, the birds chirping and the smell of the fresh cut grass you should feel relaxed but you don't. Your back side is as far forward on the stiff metal bleachers as you can get while the knot in your stomach get tighter. The score is 3-2 and the bottom of the last inning. The "other team" has runners on 2nd and 3rd with one out and you're only up by one. Your pitcher winds up and throws a ball right down the middle. "Ping" (aluminum…) is heard as everyone waits to see what the outcome will be! It's a hotshot towards the middle, but the shortstop makes an incredible play just to get to the ball! But, then runs to second and rifles a shot to first for a double play!
Winning the game… Awesome!
The short stop being your kid… Priceless!
You immediately start to have visions of MLB contracts and trips to watch your kid in the World Series.  But the reality is that God doesn't have that plan for everyone and even if He does there a lot of steps between hitting the ball off the tee for the first time to lacing it up with the big boys. Nick Torres of Cal Poly is on the verge of getting that shot to go to the big leagues, but he wouldn't be where he is today without the right team behind him.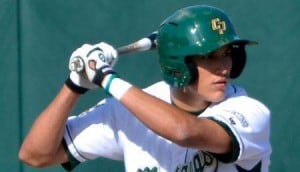 Nick Torres is a 6'1" 210 Junior at Cal Poly. He plays outfield and is having a great season for the Mustangs. His home town is in Lakewood California and growing up, like most kids, he wasn't focused on just baseball. "I grew up playing at the age of 5 years both baseball and soccer and loved both. I actually kind of liked soccer better and my dad was my coach.
My dad played in college and was a great teacher for me, but as time went on I started to get better at baseball and decided that there was more of an opportunity for a future in it, so I focused more on baseball. It was good to pick one sport and have a final goal to work for. I really have focused and have worked hard. I know that it has been part of my Christian foundation and a lesson from my parents as well. Nothing is easy and it is important to have a good work ethic. My parents have taught me to work hard and never get complacent."
His hard work paid off, but even getting into the right college came with some challenges and surprises. "I was going to start at Cypress Junior college which has a great baseball program and hope to get a chance at a division 1 school. I didn't have any prospects at the time even though I was having a monster year my senior year. Then in April (senior year) I got a call from the Cal Poly coach asking if I would be interested in taking a trip to come up to see the school and if they could come down and watch me play because they had some interest in me. At that point I had never even heard of Cal Poly! So I looked into the program, and found out that they are one of the most pristine schools in California for education. My parents really liked that aspect of it because they wanted to make sure that I did get a good education. I just wanted to play baseball! So it just ended up being a great fit and was all finalized in about a month."  God had a plan.
Going off to school can be full of challenges and temptations.  "Ever since I can remember I have been a Christian. I grew up going to church and my first memory is sitting in the pews and drawing while the service was going on. Without this foundation I don't know where I'd be. Outside influences can derail you from where you want to go and having that foundation definitely has helped me avoid some of those temptations. Especially in high school when kids are trying "things"
I really didn't have any issues with that because my Christian foundation helped me focus on the goals of what I wanted and still want to accomplish. My foundation helps me keep my head on straight and focus on what God has planned for me." Still, it has to be hard staying on the right path when our culture says that it is ok, especially if you're an athlete. Nick said, "Student athletes tend to get a little more attention and when there are outside influences a student athlete that doesn't have the right foundation may tend to think that they can do whatever they want, get away with more because 'hey I'm an athlete'.
Sadly, that's the kind of culture that sports can promote. I've been very fortunate to be surrounded by a bunch of guys on the team that believe the same as I do and have Christ as their foundation. I have a lot of good influences. My high school coach used to shout all the time, 'iron sharpens iron' and that's something that I really have never forgotten.
Even though I went to a public high school he was able to use his faith as an influence in a baseball setting. I try to be a leader now both on the field and off with my faith." Along with the other athletes that Nick has in his life, he also has another spiritual teammate that helps him stay focused. "Korrin my girlfriend has been such a huge part in keeping me grounded and strong in my faith. When I'm feeling sorry for myself or have any doubt, she is the voice of reason that always says, 'Don't worry, God has a plan..' She is my good conscious and I definitely wouldn't be where I am today without her! It is so important to have her in my life and having the same beliefs is what makes everything work."
Between school and travel teams that take Nick to various parts of the country, he may not get a lot of time at home. But when Nick does get back, his faith is put to work. "Since the age of 12 I have been giving sermons at my church. The Bible says that we are all pastors and it's something that my church really promotes. My grandfather is an elder in the church and my whole family has been strong in leading sermons, songs and just really being involved in the church.
When I go back home I can get a chance to prepare and give a sermon about two or three times a year. It's usually about 45 minutes or so and with college I have lots of experiences to draw on. I draw a lot from the team Bible studies that I am involved in and again the experiences from school. When I am able to give the sermons I really feel that I am able to give to the Church but I am really getting the most out of it."
With the draft coming up Nick has had talks and meetings with almost every team in the MLB. "I've met with everyone except the Yankees which is funny because they are my favorite team. The teams just want to talk about what to expect, see where my head is at and make sure I'm ready with the draft coming up. My end goal obviously is to play professional baseball. I know that if I'm blessed to make it, there will be a lot of temptations. My girlfriend and I have talked a lot about this, but with our foundation God will get us through it and keep me grounded.
Obviously if I get to the professional level, there is a different status of money and prestige that comes with that. With my faith, I really want to use that platform to make a difference and help people. No matter what comes my way I can get through it and do great things as long as I have Christ."
Nick has a ways to go before he is running out on the field for an MLB team for opening day. But the foundation is there. "I write different verses in my hat to remind me what God has planned for me." I know God's plan is to have Nick continuing to influence souls for Him, and with God's will hopefully we'll all be able to see that on baseball's biggest stage. God bless Nick.
UPDATE 6/6/2014
Torres was drafted by the San Diego Padres with the 117th overall pick. Torres hit third for the Cal Poly this season, leading them to their first Big West Conference title and the program's first NCAA regional hosted in San Luis Obispo. He hit .322 with a 17 doubles, six home runs and 52 RBI, leading Cal Poly in each category. Congratulations Nick and may God be with you every step of your journey.
Nick has continued to have a strong career and currently in May 2021, is playing for the Algodoneros Union Laguna in the Mexican League.