March 17, 2018, Washington High School's star basketball player Deontay Long played Kaukauna in the Wisconsin basketball state tournament. The game featured some high profile high school standouts who both wear the number 5. Jordan McCabe, a senior from Kaukauna averaged over 25 points per game faced off against Deontay Long, a junior who averaged 28.4 points per game. At the end of the game Jordan hit the game winning shot to give his team a 76-74 victory. Both players had a great game. Jordan is on his way to West Virginia where he will be pursuing his dream of playing at the next level while Deontay may be facing time in prison. Earlier in 2018, Deontay plead guilty to felony armed robbery. This fact left many people asking the Wisconsin Interscholastic Athletic Association (WIAA) why he was allowed to play.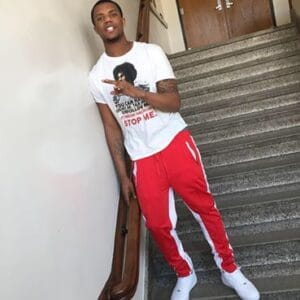 According to the criminal complaint, Deontay Long and his friends robbed two people at gunpoint in an east-side Milwaukee neighborhood last summer before carjacking a woman. Police arrested them after they crashed that car into a building. An 80-year-old lady was also one of the victims in that crime spree. In a January court hearing, Deontay plead guilty to the class 'c' felony. Deontay also sent apology letters to the victims. His school said he served a suspension in cross country prior to the start of basketball season. This 'suspension' allowed him to be eligible for basketball.
The WIAA governs more than 500 schools. Its code of conduct explicitly prohibits the use of alcohol, tobacco or drugs, but the rule book says nothing about criminal conduct.
When the 6'5″ 215 lbs Junior played in the state tournament, he was greeted with a thunderous roar of 'boos' from a crowd that was dissatisfied with the allowance of his participation in the tournament.
This situation is not unusual. In 2014, Mukwonago's Dominic Cizauskas played in the state basketball tournament at the same time police investigated him for sexual assault.
Two years later, Lake Geneva's Blake Dodd continued playing after police charged him with sexual exploitation of a child.
Should they have been allowed to play? When does the development of the 'person' get the focus verses us just focusing on the 'player'?
These players were in the wrong but the sins didn't end with their actions.
Coaches and WIAA:
What the players did off the court was wrong. Period… Turning a blind eye to that and allowing them to play doesn't develop a person. It just delivers a message that they are above the law. Tough love is STILL love. Proverbs 13:24 Whoever spares the rod hates their children, but the one who loves their children is careful to discipline them… We sometimes need to let people fall to learn how to get back up. We CAN'T keep saying 'it's ok' without consequence. And coaches need to work in tandem with parents and family to mentor not just win games.
Fans:
The beautiful thing about our Lord is that there is grace. He took the fall for our transgressions and IF we repent there is forgiveness. Isaiah 53:5 But he was pierced for our transgressions, he was crushed for our iniquities; the punishment that brought us peace was on him, and by his wounds we are healed… The judgement from the fans was an attack on someone who they didn't know. Should he have played? No. What Deontay did was wrong and a sin. And in God's eyes, like ALL THE SINS WE COMMIT. So while we point our righteous finger at those who have fallen, God is just shaking His head. Matthew 7:5 You hypocrite, first take the plank out of your own eye, and then you will see clearly to remove the speck from your brother's eye.
What if we invested time in building up verses waiting like vultures to pick at the carcass of the fallen? 1 Corinthians 10:24 No one should seek their own good, but the good of others… We don't except the sin but we should love the sinner.
We should acknowledge that what the player, fans, coaches and WIAA was wrong. Now what? There needs to be change that restores and builds. And that is not just with the players.
The end result is that our culture needs to evaluate its priorities and how we treat others. The effort people put into players winning a game ends when the buzzer sounds. The results and or consequences are minimal. The effort we invest into people and their walk with Christ lasts past the buzzer into eternity.