As a football fan, one of my favorite things to do is to debate about which players should or shouldn't be inducted into the NFL Hall of Fame. A couple weeks ago the NFL released its list of 2014 Hall of Fame inductees. Michael Strahan, Andre Reed, Walter Jones, Derrick Brooks, Aeneas Williams, Claude Humphrey and Ray Guy were all selected for enshrinement into the Hall of Fame. All of these men had a remarkable impact on the NFL and are worthy of selection but it's also interesting to see who didn't get elected to the Hall of Fame. Some of the bigger names left off the list this year included Marvin Harrison, Tony Dungy and Jerome Bettis. This brings up the question of how the selection process works.
The selection process for the NFL Hall of Fame is actually quite lengthy. There is a selection committee made up of sports media representatives from across the United States. The committee members carefully scrutinize each nominee before voting on which players will be inducted into the Hall of Fame. Some of the factors that the committee looks at are overall career statistical achievements, Super Bowl titles, and the consistency of a player over his entire playing career (number of Pro Bowl selections would be a good example). There are many more factors to consider but the bottom line is that the Hall of Fame is intended to recognize the best players that the NFL has produced over the years. As fans we can debate for ages on who does and does not deserve to be in the Hall of Fame but we actually have very little if any input.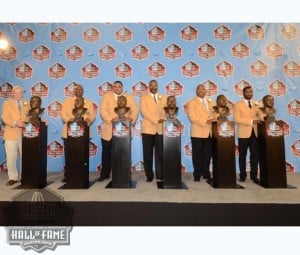 So the main question to be asked is 'What makes a Hall of Famer?' It has to be more than just statistical achievements. What about the intangibles such as heart and desire? The fact that we can debate for hours on this topic helps to show that the selection process is flawed. Every year there will be deserving players that for some reason or another were left off the list. Thankfully, that is not the way it works with our Father in heaven. There is no amount of accomplishments, titles, or accolades that we can receive in order to work our way into heaven. Ephesians 2:8-9 says, "For it is by grace you have been saved, through faith—and this is not from yourselves, it is the gift of God— not by works, so that no one can boast. " That is great news! When we place our faith and trust in Christ, we don't have to worry about whether we are good enough! God accepts us right where we are. We don't have to be a Hall of Famer!
The more I think about what it takes to be a Hall of Famer, I am reminded of the many friends that God has placed in my life who have encouraged me and really shown me by example what it means to follow Jesus. Men who love their families and who have a steadfast commitment to serve God. Men who have encouraged me to be a better friend, dad, and husband. Men who not only trust God in the good times of life, but they also trust Him when faced with difficult circumstances. They aren't perfect but they are intentional about growing stronger in their faith. These men don't have the Super Bowl titles or statistical achievements for consideration into the NFL Hall of Fame, but they are true Hall of Famers to me.
Question for reflection:
1. Who has been a true Hall of Famer to you? Take some time this week to tell them.
2. In what ways can you be a true Hall of Famer to someone in your life?