When you have children, you will come to a point where you realize that summers – which seem so gloriously long and free at the outset – are simply too short to incorporate all of the family activities you have eagerly planned and anticipated over the winter. And then an additional harsh reality sets in: with each child, you have just 18 summers to share with them.
So instead of just letting things unfold by happenstance, why not do a little pre-summer planning to book the summer with family activities that are uplifting, encouraging, spiritual, fun – and create opportunities to bring you all closer together.
Keep faith in mind as you think about what you want the summer to hold. Don't worry; a traveling bible is not a prerequisite, but there may be times when you wish you had one handy.
Here are 11 fun activities for you and your family that honor and deepen your relationship with God. 
Get outdoors!
1.Go on a picnic
Taking the family on a picnic doesn't need to be an ordeal! You can make it easier and more fun with some quick planning. If you're not opposed to disposable utensils and plates, assemble a ready-to-go package of plates, cups, and utensils, and throw in paper towels and wipes while you're at it. For a more eco-friendly lunch, think about lightweight enamel plates (readily available at this time of year) and a container to bring dishes and utensils home to wash.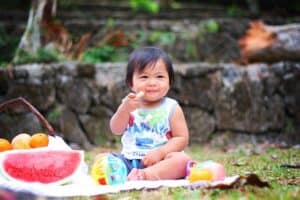 Take easily packed finger food — Everyone loves hotdogs, summer sausage, and deli salads, so you can easily pack up your family's favorites in a cooler for your meal. Also, remember to bring plenty of water or a favorite summer beverage in reusable containers to cut down on waste.
Picnic activities — Your family may need more to do than just sit around talking. For example, plan a scavenger hunt or make a contest out of trying to find all the colors of the rainbow.
Remembering God — Thank God for the beautiful surroundings, your family members, and food you're enjoying for your picnic feast. If a relaxing chat is in order, discuss a favorite bible story or ask everyone's opinion about the sermon you heard on Sunday would both be great opportunities to share God's Word.
2) Go on a walk or hike
When hiking with the family, expect to encounter bugs, unwelcome weather, and even wildlife. To stay safe, make a plan. Fuel up with a substantial, healthy breakfast before you head out. That could consist of eggs, whole-grain non-sugary cereal, oatmeal, whole-wheat toast, low-fat yogurt, whole-grain pasta, brown rice, fruits, and even vegetables. Bring along healthy snacks like nuts, jerky, granola bars, or fruit.
Wear layers — In many parts of the country, the weather can change quickly. If you are gaining altitude on your hike, the higher you climb, the cooler it is likely to be; dress everyone in layers so you can easily wrap up or take them off as you get warmer or cooler. It's also handy to have extra socks in case anyone's hiking boots get wet.
Have fun — If your family includes smaller children, take it easy and remember to have fun. You're not in this for a gold medal; the idea is to spend quality time together and enjoy nature.
Remembering God — As you relax and enjoy the surroundings, talk to your family about how beautiful environment was created and the wonder of God's creation.
3) Participate in an outdoor sport
Find something both you and the kids can enjoy. This could be golf, tennis, soccer, throwing a baseball or football around, basketball, disk golf, pickleball, or any other outdoor sport. Keep the equipment in the trunk for impromptu trips.
Remembering God — Be thankful for your good health and the ability to move, run, jump, throw – all the physical movement associated with sports.
4) Fly a kite
Especially if you're new to kite-flying, choose a moderately windy day to get your kite aloft. If there's just a light breeze, everyone may be disappointed if you can't get your kite off the ground. On the other hand, if you go out on a windy day, your kite may get destroyed. But either way, grab your kite and your family, head for the nearest open field, or park and let it fly.
Remembering God — Think about how amazing it is that God created the wind holding the kite in the air. Enjoy the fresh air.
5) Road trip
While not technically "outdoors," time spent traveling together as a family provides an excellent opportunity to discuss life, faith, and fun. Remember frisbees, balls, baseball gloves, and a stopwatch for timing family's relay races when stopping at rest areas. Also, keep healthy snacks and plenty of water for all your passengers.
Remembering God — Prepare a list of accessible topics centered on bible stories, biblical life lessons, or Jesus to discuss as you drive.
At SportsFaith, one of our favorite outdoor activities is golf. Depending on your skill level, golf can be a very frustrating sport. You can make it more entertaining and less self-focused when playing it with a bible study.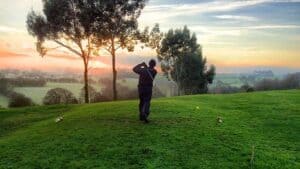 Remembering God — Find discussion topics to think about after you tee off and make your way through each hole. You get the benefit of a brisk walk, the gratification of hitting the golf ball – and you also engage in meaningful conversation that opens your heart and mind to God's Word.
Indoor family activities
6) Game night
Keep the ages of different family members in mind for game night. Even a simple game like dominos can bring you closer together. You don't need to break out the backgammon board or Parcheesi to have fun. With a deck of cards and a few easy games like war, high/low, and garbage, the time will fly by.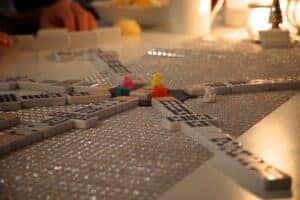 Remembering God — As you play, talk about your favorite bible stories or bring up a passage you read that morning and share it with your family. Sharing time is sharing love, and that is God's plan for us.
7) Movie night
Planning movie nights can be a little more complicated. If your family spans a range of ages, choosing an age-appropriate movie may be a challenge. While you don't have to choose a Christian movie, you'll save yourself the worry of inappropriate subject matter or language if you do.
When in doubt, go for a clean, classic comedy you can all enjoy. Laughter is always good medicine, and spending time together and enjoying yourselves is the most important aspect of the evening.
Remembering God — Talk about the show and see if you can identify its life lessons – if there are any. You may be able to correlate them to a biblical passage. Movies can offer good teaching opportunities, including about things not to do. Explaining how Christ would have us live differently than some of the movie's characters could be a great lesson.
8) Table topics
We're all aware that it's essential to eat a family meal together, sitting at the dinner table. Spend this time asking about what's going on in each family member's life. Busy lives pull us away from time with our family. You can talk about highs and lows, the events that happened in everyone's day, and how they reacted to them —- good or bad.
Remembering God — Jesus shared his knowledge with the world through parables and short stories. Share a parable or thoughts about how you could have handled a situation better. Ask your family about how they think Jesus would have handled it.
9) Art or woodworking projects
Building and designing together can be very rewarding, especially if you're making a gift to bring someone joy. Art projects with crayons, markers, or a glued collage can all be great fun when you work on them together. It might not be easy but go into it without worrying about the mess.
The goal is to work on something together and have fun. If you're woodworking, the sawdust will be worth it when you get your jewelry box or birdhouse ready to paint. Even a simple cross is a great gift or decor item.
Remembering God — God is the creator of the universe! He gave us the ability to make beautiful things. Talk about God's creation as you enjoy making something together.
10) Play music and sing together
You may feel like you can't carry a tune, or if you attempt to do so, the band will close up shop around you. Don't be self-conscious – focus on spending time together, doing something that will glorify God. He loves to hear the voices of his children and their instruments.
Remembering God — Talk about music and song as forms of praise and worship for the Lord. The bible says: "It is good to praise the Lord and make music to your name, O Most High." Psalms 92:1
11) Read the Bible
Spending time together immersed in God's Word will nourish your family members' spirits and minds. Lessons from the Bible can always be relevant. No matter what challenges you're facing as a family or individual, you will be able to find verses to strengthen and sustain you. The Gospels of Matthew, Mark, Luke, and John are great places to start listening and learning from Jesus. While you're learning how to be together in a family activity, you'll also learn about Jesus' Love.
These eleven activities are by no means an all-encompassing list! However, we hope these ideas open your eyes to all of the possibilities for activities you can share as a family this summer. More importantly, we hope it helps bring to mind ways and ideas to glorify God in your daily lives and see His beauty in everything and everyone around you.
To receive more encouraging words directly from The Ultimate Playbook (God's Word), visit our website to sign up for the SportsFaith Plays of the Day.